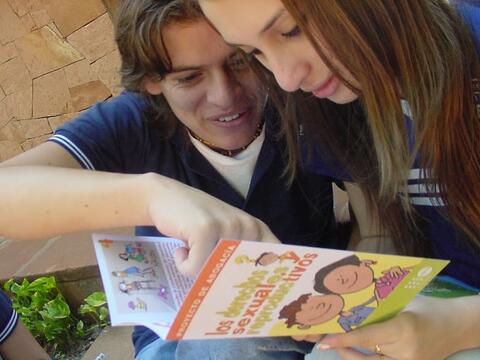 Linkages between sexual and reproductive health (SRH) and HIV/AIDS programmes can significantly reduce the HIV epidemic, while addressing the unmet need and rights of women and men living with HIV to sexual and reproductive health services. Over 75% of HIV infections are transmitted through unprotected sexual intercourse and from mother to child during pregnancy, childbirth or breastfeeding. The presence of other sexually transmitted infections (STIs) increases the risk of transmitting HIV. Apart from these obvious direct associations, many drivers of SRH challenges also affect HIV/AIDS. These include gender inequality, poverty, stigma and discrimination and marginalization of groups.
The shift in the age structure of the region has resulted in a concentration of young people who are making their transition to adult life and need to fulfill their reproductive rights in order to prevent the transmission of STIs, including HIV and papillomavirus, ensure safe motherhood and continuous attention to family planning needs, among others. Similarly, the aging of the population increases the burden of family care and this, in turn, primarily affects women's time use and their chances to transfer their knowledge and skills to the labour market and the economy in general, placing them in an unequal position compared to men.
Comprehensive sex education is one intervention that allows people in general, and adolescents and youth in particular, to control their sexual and reproductive lives. The regional picture in this regard is one of unstable, uneven and incomplete sexuality education policy and programmes, with some exceptions. In some cases, sexuality education is offered as counselling and mentoring in schools but is not integrated in the curriculum. In other cases, content is incorporated into the curriculum, but teaching in the classroom is of poor quality or not applied. In some cases, biology-oriented conceptions prevail, while in other the focus is on education, and the priority is on the prevention of STIs, particularly HIV/AIDS. In any case, where national policies and programmes exist, it is important and necessary that comprehensive and quality sexuality education reaches the classroom. Therefore, advocacy with teachers is strategic, and so is national and local ownership over the issue. However, given the high rates of school dropout among population groups with less access to basic social services, it is necessary to reach these groups through comprehensive sexuality education outside of school.
Unknown